Cyber Risk Audit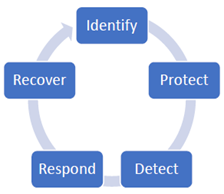 Organisations face increasing uncertainty and ambiguity as technology can be both a great enabler and an existential threat to business as usual. The team at Forsyte & Two Swords help balance the cybersecurity and technology risks specific to your business with your business's goals so you can focus on delivering excellence for your customers.
Forsyte, in partnership with Two Swords, provide a wholistic and detailed methodology to operationalise cyber risk management.
Our cyber risk audit isn't just about compliance. It's about providing the insight and analysis you need in an ever-changing world to securely deliver your products and services. Our process follows a risk-based approach to examine the strategic, operational and technology aspects to provide you with a comprehensive understanding of your current level of exposure and a road map to guide decision making based on your risk tolerance.
We start by understanding your organisation's mission and then identify your top organisational cyber risk by enumerating potential major loss scenarios. These are mapped to the technical assessment to contextualise what the potential impacts are for your organisation. We discuss your organisational cyber risk tolerance so that where there are areas of risk outside of your tolerance level, we can highlight these and provide mitigation strategies.
We interview, review documentation, map systems, conduct external and internal network scanning, and physically inspect critical locations as part of our assessment. We utilise a range of cyber-security frameworks in this process to ensure best practices and enable industry comparison.
Your systems will then be mapped to the organisational risks. This will be used to determine the system criticality which will then be assessed to the cyber security functional areas to identify, protect, detect, respond, and recover to ensure coverage of protection.
We deliver the current view of your organisation's cyber risk profile and provide the desired state to meet your goals. An implementation roadmap will be provided on the recommended priorities for remediation. The combined thought leadership of Forsyte and Two Swords creates a boutique cyber risk advisory group. We have worked within the government sector, defence, technology, telecommunications, financial services, resources, and manufacturing industries. We look forward to working with you in helping defend what matters.